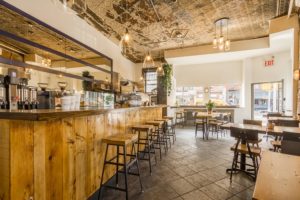 Lately, there's been a notable amount of press extolling the growing appeal of Australian coffee culture here in the States. With an emphasis on superb coffee and lingering with friends over delicious food, Australian café society couldn't be more different than the grab-n-go mayhem of Starbucks or Dunkin Donuts.
Hole in the Wall Cafe and Bar & Seven Point Espresso are two recent projects built by Dixon Projects
Dixon Projects has completed more than 800 high-quality renovations from Brooklyn coffee shops to high-end Manhattan office fit-outs. Whether you're looking for an expansive commercial renovation or an inviting retail space, you'll enjoy award-winning design-build services, optimized to ensure your business opens on time and on budget.