Located at Holt Renfrew in Yorkdale, Toronto, the new boutique boasts the brand's distinctive and eye-catching design.
Christian Louboutin is one of the world's most recognizable luxury brands, boasting more than 70 boutiques across 29 countries. Now, the French-Egyptian brand has partnered with Unique Store Fixtures to bring their latest vision to life. The firm has utilized different finishes and textures and has also created and installed an utterly unique carousel ceiling.
The whole boutique is heavily inspired by iconic Louboutin items, with the classic red being coupled with solid walnut displays that are used to display the products.
"We are very fortunate to work with world-class brands, such as Christian Louboutin, and we are extremely proud of the outcome of his latest boutique within Holt Renfrew at Yorkdale," said Ferro Corrente, Chief Operating Officer of Unique Store Fixtures. "Working hand in hand with the design team at Christian Louboutin, the Unique team captured the imagery and quality of the brand, and our craftspeople manufactured a retail environment, which beautifully reflects the artistry of this iconic fashion designer."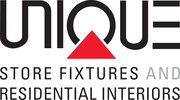 Established in 1983, Unique Store Fixtures is North America's leading millwork services company for store displays and retail environments. We supply custom-crafted components for modern commercial and residential interiors, including store fixtures, curved glass displays, high-security display cases, custom molding, and millwork, LED lighting, and more.
WOULD YOU LIKE YOUR PROJECT TO BE FEATURED?
CONTACT US